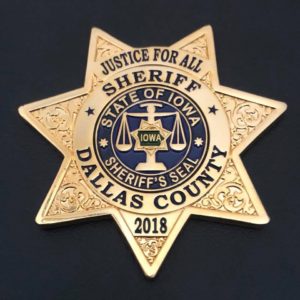 Scams are a constant threat for people, especially the elderly, and Dallas County Sheriff Chad Leonard advises the public to always have their guard up when answering calls from numbers they don't recognize.
Leonard says there's a wide variety of scams out there, and some can be fairly convincing. However, he says the key to avoid being scammed is to check whether or not the claim being made is valid. "There's a scam where they're calling elderly folks and telling them that their grandchild's in jail, and they need bond money. And somebody will actually get on the phone and act like their grandchild and stuff. So you have to know that these things are all false. Things don't work that way. You can hang up and call that particular jail and ask them if your grandchild's in there. Any jail in the country will answer the phone and verify that, 'Yes, you have a grandchild in here, and the bond is this much money.' So don't just take their word for it and pay."
Another common scam involves someone claiming to be from the Internal Revenue Service. Leonard emphasizes that the IRS will never call an individual on the phone under any circumstance, so anyone claiming to be from there is trying to run a scam. He adds, unfortunately when people do get scammed, there's not much any law enforcement can do. As such, he encourages people to be cautious, and when in doubt they should call the authorities to check before sending any money.
To hear more from Leonard, click the link below to listen to the most recent Perry Fareway Let's Talk Dallas County program with him.
https://www.raccoonvalleyradio.com/2019/03/13/lets-talk-dallas-county-3-13-2019-chad-leonard/