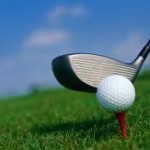 The ADM Boys' Golf team will be back out on the course today, as the Tigers host a triangular at their home golf course, River Valley Golf Course in Adel. Two teams are traveling to Adel to face the Tigers today; Gilbert, and ADM's rival, neighboring, Dallas Center-Grimes.
The ADM Boys' Golf team was scheduled to compete on both, Friday and Saturday, of last week but both events were cancelled due to the high winds, cold temperatures, and overall foul weather last week. ADM was scheduled to make a trip to the southeast part of the state for two consecutive days.
On Friday, ADM was to play in a dual with Pella at Bos Landen Golf Course in Pella, and Saturday, the Tigers were to play the hosting Oskaloosa Indians at Edmundson Golf Course in Oskaloosa.
ADM will tee off this afternoon with opponents, Gilbert and DC-G, at 4:00 from River Valley Golf Course in Adel.