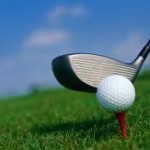 Kelly Roder's ADM Boys' Golf team was in action on Friday in the Class 3A Golf Sectionals at Majestic Hills Golf Course in Denison.
It all came down to just two strokes, but the Tigers came up just a bit short of moving on as a team to the District Meet.
ADM totaled a 344 at the clubhouse on Friday afternoon, which was fourth at the Sectionals Meet in Denison.  Carroll won the meet by a noticeable margin, with their team total of 320.  Atlantic was second with a total of 342, Glendwood finished third at 343, followed by one stroke higher at 344 from ADM.  The Tigers finished in the middle of the pack, as a total of eight teams competed in Denison on Friday.
Only the top two teams advanced onto the Meet, so Atlantic will follow the Carroll Tigers to the District Meet next week.
Individual scoring for ADM was led by Adam O'Connor with a 76, Seth Williamson played very well and came in with a total of 86, Joe Finnegan finished at 87, Carter Greenslade 95, Aaron Teckerburg 96, and Jaxson Millsap with 103 rounded out the scoring for the ADM Boys' Golf team in their Sectional Meet.
Although, ADM won't advance as a team, the Tigers will send Adam O'Connor to Districts as an individual as his 76 was good enough for a third place finish in the Sectionals Meet.
O'Connor will represent ADM in the District Meet next Friday morning teeing off in Atlantic.