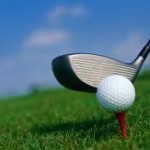 The Panorama girls golf season came to an end Monday with the first round of regionals at Lake Panorama National Golf Course.
The Lady Panthers finished fifth out of the seven teams competing in Panora with a total score of 506. The top two teams move on along with the top six individuals.
Van Meter and Colfax-Mingo were the qualifying teams with scores of 405 and 426, respectively. Van Meter's Kylie Carey posted the top individual score with a round of 82.
Coach Melissa Hochstetler had a very young team this year for Panorama with only one senior and one junior joined by a number of freshmen and sophomores.