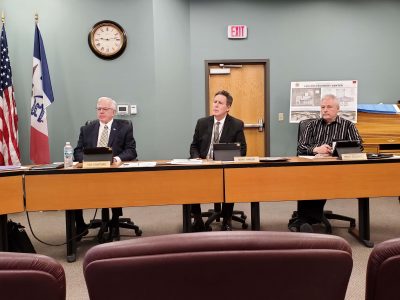 The Dallas County Board of Supervisors convened Tuesday morning in regular session.
The meeting began with the canvass of the recent Dexter special election to fill a City Council vacancy. Auditor Julia Helm said there was no one actually on the ballot, so the winner was selected from the write-in votes. Jamie Schirm had received 27 of the 45 votes cast, and had accepted the position. The Supervisors approved the canvass and made the election official. Next, the Board approved the renewal of the contract with I Am Responding for the Emergency Medical Services Department, which will cost $1,100. Following that, they approved a $19,383 contract with Communication Innovators to replace security cameras at the courthouse.
Other items approved included: a business property tax credit allowance; the public records security policy for elections; the official County seal; setting May 28th at 9:30 a.m. as the date and time for a public hearing on the second fiscal year 2019 budget amendment; the facilities use plan for the Human Services Campus community room; establishing a seven-member mining advisory committee; the appointment of Deb Anderson to the Aging Resources Advisory Council; and three operating transfers. The meeting concluded with a closed session to discuss purchase of real estate.