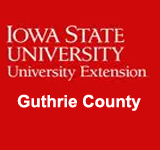 Guthrie County 4-H members wanting to get involved in horticulture this summer are invited to take part in an annual event.
The 4-H Garden Challenge workshop will take place Sunday June 2nd at 12:30 p.m. at Panorama Gardens in Panora. Members in fourth grade and above will get to put together a two-by-two foot garden box. Guthrie County Extension Youth Coordinator Mollie Clark shares what Dave Olsen from Panorama Gardens will do at the workshop, "Dave will kind of go over what works good and help them pick out their soil. And then he gives them seeds to start with and so that's the best way for kids to learn is to get that hands-on experience and to learn from a professional."
Participants will then have to care for their garden during the summer and then turn in a written report on how their garden developed, and have it judged at the county fair. There is a $10 fee for the workshop, and registration is due May 24th. For a link to register visit here.