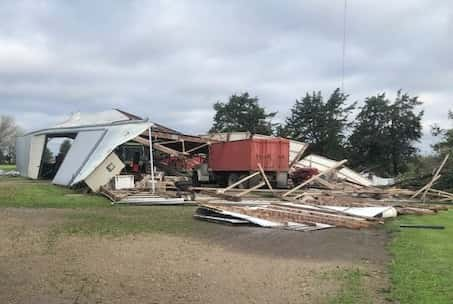 Photo courtesy of Greene County Sheriff Jack Williams
Minor to severe property damage was reported throughout Greene County from recent strong straight line winds.
Greene County Sheriff Jack Williams believes straight line winds destroyed a storage building in the 600 block of 260th Street around 3am Wednesday. He tells Raccoon Valley Radio some of the contents were damaged and there were vehicles inside, and the building itself was a total loss. A residence was located nearby, but it wasn't damaged. The property is owned by Charles Duff of Scranton. Williams adds a tree had blown down causing severe damage to the roof of the Brown Funeral Home in Churdan at 7:19pm Tuesday. Other reports of damage in the county were downed trees various locations in Churdan and in the 500 block of N Avenue.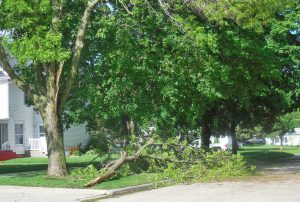 In the City of Jefferson, Police Chief Mark Clouse tells Raccoon Valley Radio about a report of a large tree branch that broke off and damaged the roof of a home at 205 West Madison Street just after 7pm Tuesday. Another tree branch fell hitting a powerline causing a small fire in the 600 block of South Vine Street, which was quickly put out at around 8:15pm. Other reports were of tree branches falling onto city streets or tree trunks that had split. Clouse believes all of these reports were due to straight line winds.
In all of the reports of damage, no one was hurt. Williams adds there were portions of Jefferson and Grand Junction, along with the City of Churdan that were without power for a period of time during the storms. He believes all power has been restored at this time. Williams confirms no severe thunderstorm warnings were issued by the National Weather Service. However, he reminds everyone if you have reports of property damage caused by falling tree branches due to weather-related incidents, to call the law enforcement center at 515-386-2136.