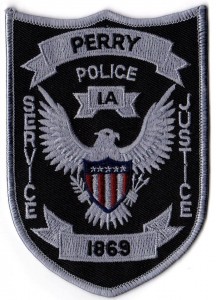 A car versus bicycle wreck in Perry Wednesday afternoon resulted in injuries and citations for all parties involved.
The Perry Police Department reports that at around 3:30 p.m., officers were dispatched to the intersection of 8th and Iowa streets. A bike ridden by Muhamed Alhamed was travelling westbound on Iowa Street. He came to a stop before the intersection, but proceeded through without noticing the approaching vehicle. A 2017 Ford Focus driven by Juventino Diaz was travelling southbound on 8th Street and struck the bicyclist when he entered the road. Alhamed rolled across the windshield of the car and went airborne over the top before landing on the street.
He suffered lacerations to his head, as well as two larger lacerations on his back, and was transported to Dallas County Hospital with non life-threatening injuries. The impact with the car also broke the windshield, resulting in lacerations to Diaz's hands. Damage to the vehicle was estimated at $2,000. Alhamed was cited for failure to yield upon entering an intersection, and Diaz was cited for no valid driver's license.