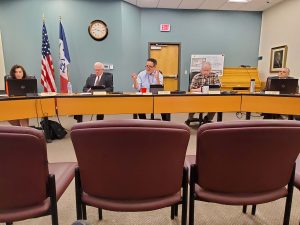 The Dallas County Board of Supervisors convened Tuesday morning in regular session.
The meeting started with the approval of the purchase of a plot of land for $7,000, which contains a cell tower used by the County dispatch center. The land is located near Perry and was previously leased from the landowner. Next, the Supervisors approved an operating transfer, moving $480,000 from the rural basic fund to the secondary roads fund. At 9:30 there was a public hearing regarding a new lease for four mowers used by the Conservation Department. No one spoke against it, so the Board approved the $108,665.48 lease for the next four years.
The Supervisors also held discussion but took no official action regarding the emergency declaration process, and the potential sale of County-owned property in Adel. Finally, the Board set the date for employee performance reviews, which will be conducted on Tuesday, June 18th from 1-5 p.m.