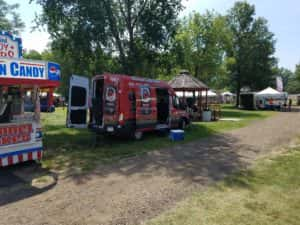 The 2019 Dallas County Fair opens tomorrow, with many activities happening throughout the day at the fairgrounds north of Adel.
Dallas County ISU Extension Director Jeff Jackson says there have been some smaller events and judging already this week, but points out that tomorrow is when the festivities shift into a higher gear. "Really, the fair officially kicks off 5:30 p.m. on Wednesday. They do the flag raising, it's a big celebration. There'll be a lot of great activities, the rides will be there, and just great pieces of entertainment. They can already get into the 4-H building, the community building, and start seeing all that hard work that these students put forth."
Additionally, Jackson says tomorrow at 6 p.m. the Dallas County Fair Board will crown this year's Fair Queen, who will have an assortment of duties throughout the week. The winner will then compete for the title of State Fair Queen at the Iowa State Fair in August. The Raccoon Valley Radio Big Red Radio will also be at each day of the fair, starting tomorrow from 10 a.m. – 6 p.m. We will broadcast live, report the latest competition results, play music by the gazebo, and provide public address services through Sunday.
To learn more about the 2019 Dallas County Fair, including a full schedule of activities, click the first link below to visit the official Fair Board website. To hear more from Jackson, click the second link to listen to the recent Perry Fareway Let's Talk Dallas County program with him.
https://www.dallascountyfair.com
https://www.raccoonvalleyradio.com/2019/07/08/lets-talk-dallas-county-7-8-2019-jeff-jackson/