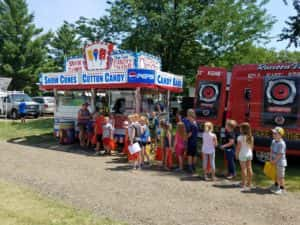 The 2019 Dallas County Fair officially kicked off today, and the festivities continue tomorrow with the popular Clover Kids Day.
Clover Kids is for children in kindergarten through 3rd grade, and the program prepares them to be full-fledged 4-H members. Dallas County ISU Extension Director Jeff Jackson says part of that preparation is the opportunity to show off some of their own exhibits. "Our Clover Kids come in from 3-6:30 and they get a chance to have their projects judged by some judges. There's some arts and crafts, there's some prizes they can win. We also have prizes for the general public, so come on out and check those out as well. And then that evening we do our 4-H barbecue."
Jackson also reminds fairgoers that tomorrow is dollar-ride day, so kids can hop on any of the carnival rides for $1, whether they're in 4-H or not. Other activities during the day include: the 4-H and FFA sheep, goat, and bucket and bottle calf shows; an extreme illusions and escapes show; 4-H State Fair pictures for static exhibits; and the Ultimate Showman Contest. The day will wrap up with mutton busting and extreme bull riding at the south arena at 7 p.m. Additionally, the Raccoon Valley Radio Big Red Radio will be at the fair today through Sunday, as we broadcast live between 10 a.m. – 6 p.m., report the latest contest results, play music by the gazebo, and provide public address services.
To view a full schedule of events for the 2019 Dallas County Fair, click the link below.