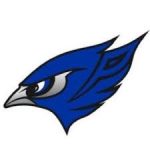 Perry was just one step away from securing their first victory of the year Wednesday night, literally.  Ogden defeated Perry 8-6 in nine innings of non conference baseball spoiling senior night for five Bluejays.  Trailing 5-1 in the bottom of the fifth, Perry mounted a furious rally scoring five times off four consecutive hits to grab a 6-5 lead.  Kaleb Olejniczak ripped a two run double while Kato Dougan followed with a two-run single and Keeghan West added a RBI hit.  The key moment of the game occurred later in the inning with two outs.  With West at third and Kaden Boyer at second, Connor Kenyon hit a ground ball to third that was mishandled by Ogden, allowing West to break home.  However, Boyer also kept moving and slid into the tag at third base before West could cross the plate keeping a potential game winning run off the board.
West started and pitched the first four innings allowing three earned runs while striking out six.  Olejniczak was terrific on the mound pitching two hit ball over four strong innings.  The senior came into the contest with less than three innings pitched on the season.  Dougan took the loss allowing two runs in his inning of work.
Olejniczak finished with 3 RBI's for Perry while senior Quinn Helmers scored a pair of runs.  Perry outhit Ogden 9-8.
The Bluejays travel to Kuemper Catholic tonight.