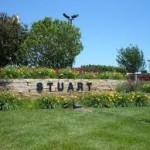 Stuart residents have a final opportunity to be a part of the planning process for a community input survey for the City's comprehensive plan.
The City has contracted Region XII Council of Governments to help create a new comprehensive plan, and they are holding the last public input open house on Monday, July 15th from 6:30-7:30 p.m. in the City Hall Council Chambers. Attendees will be asked to complete a worksheet on the community's strengths, weaknesses, opportunities, and threats. Stuart Economic Development Director Kristen Renslow explains the importance for residents to take part,
"I would recommend it because it gives them the opportunity to provide the city and Region XII with a list of community projects or potential goals that they feel are important to have in Stuart, and it's just really to get an understanding of where they want Stuart to be in the future."
The last comprehensive plan was created in 2002, and following Monday's open house a 35-question survey will be sent to residents to complete to help solidify the plan. Renslow expects the comprehensive plan to be completed by 2020.