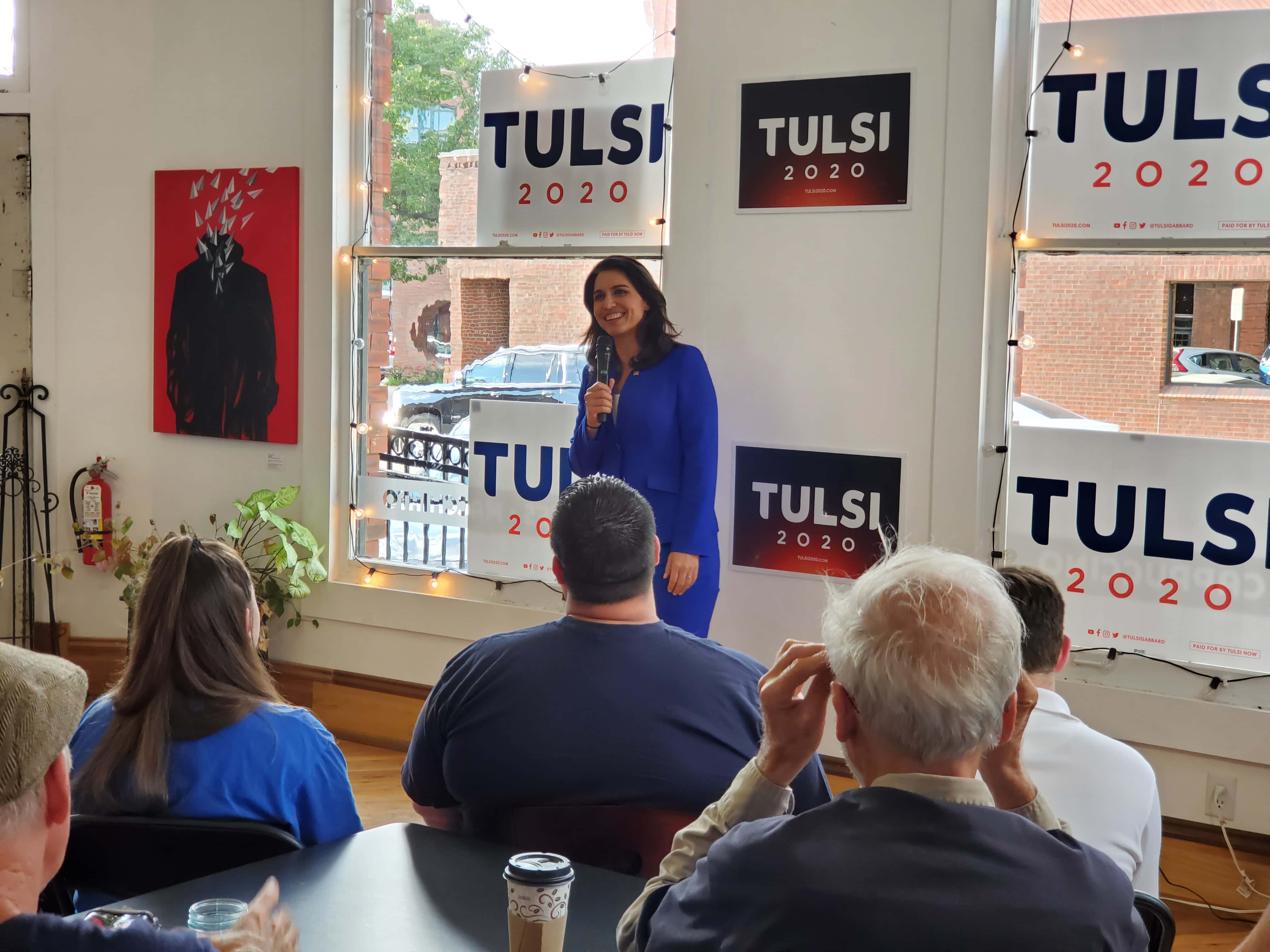 A Democratic candidate for President of the United States paid a visit to Perry Thursday evening, as U.S. Congresswoman Tulsi Gabbard of Hawaii made her third visit to Dallas County this year.
The town hall was hosted by the Perry Area Democrats and was held at the Perry Perk Coffee Shop. The venue was packed with people interested in learning about the candidate, who has also made appearances at the Dallas County Democrats annual fundraiser and at this year's Adel Sweet Corn Festival. Gabbard talked about just returning from two weeks overseas with the U.S. National Guard, for which she has obtained the rank of Major and is still on active duty. She discussed what makes good leadership and using those skills for problem solving at the highest level.
She put an emphasis on the importance of a strong foreign policy, bringing a message of cooperation. Following her speech, she took questions from the audience, which included topics such as prioritizing issues, military families overseas, the concerns over the Dakota Access Pipeline and fossil fuels, student loan forgiveness, and the world economy. Gabbard was not invited to the next Democratic Presidential debate in September, but she said that won't deter her resolve. "Look, the debates are helpful, obviously, to have that platform to be able to speak to a lot of folks in the country. But it's not the only way to reach voters. So I'm going to continue doing what we're doing and going and holding town halls like this across different states in the country, and continuing our grassroots campaign to reach as many folks as possible. So hopefully we'll get into that October debate, but if we don't we're going to drive on and continue forward."
Gabbard is one of 21 candidates still in the running for the Democratic nomination for President in the 2020 primary election. Many candidates have been visiting communities throughout the state this year as they prepare for the upcoming Iowa Caucuses, including 10 who have visited Dallas County. Gabbard is currently the only one to visit the County multiple times. Other candidates who have already visited Dallas County include: former Texas Congressman Beto O'Rourke, Southbend, Indiana Mayor Pete Buttegieg, and Minnesota Senator Amy Klobuchar, who each visited Adel; former Maryland Congressman John Delaney, Vermont Senator Bernie Sanders, and Massachusetts Senator Elizabeth Warren, who stopped in Perry; California Businessman Andrew Yang, who also attended the Dallas County Democrats annual fundraiser; and New Jersey Senator Cory Booker, and California Senator Kamala Harris, who visited Waukee.