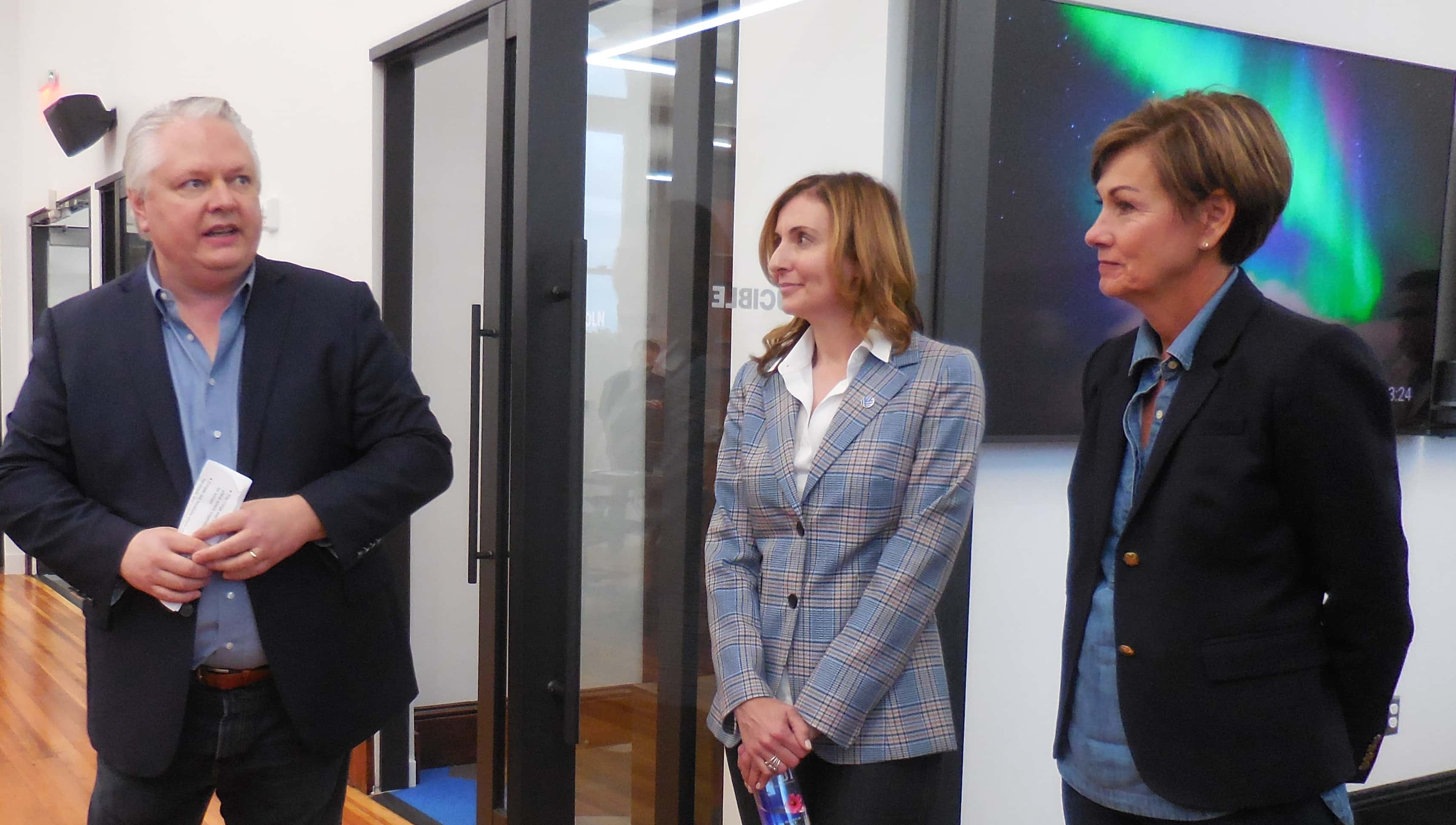 Linc Kroeger (left) with Accenture explaining The Forge. Governor Kim Reynolds (right) and Debra King with Corteva (middle) looking on
Jefferson residents and the world got its first glimpse of The Forge in Jefferson Saturday night.
It was a celebration event of four years in the making as Accenture Industry X.0 opened its doors to The Forge and held a program at the Greene County Community Center. Part of The Forge Accenture includes employees to create solutions of value to solve problems, using a "no constraint thinking" method. Linc Kroger with Accenture said by using this method, people can think of possibilities, without constraints, to solve problems. Another part of The Forge is open for people to use to collaborate or work on issues together.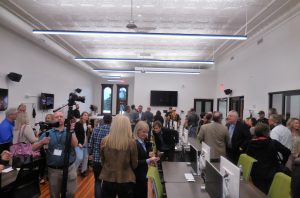 Accenture's Global Head for Responsible Business, Corporate Sustainability and Citizenship Chad Jerdee said they are going a step further by providing The Forge Academy. It will allow community college graduates the opportunity to do a four-month apprenticeship. He added after the apprenticeship, the student can then apply for a six-month, paid apprenticeship with The Forge. 
Another announcement came from Facebook Vice-President of State Policy Will Castleberry. He said that they are not only going to continue their digital skills program with Des Moines Area Community College (DMACC) for two more years, they are expanding it to all DMACC campuses, including Carroll, and providing additional scholarship funds for those looking to get into a digital career.
Greene County resident Chris Deal has been spearheading the project and talked about his reaction to seeing The Forge come to fruition.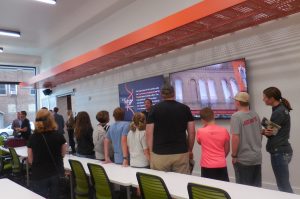 "It's incredibly rewarding to be where we are today. But what's more exciting, I'd say is more important, is that we set our sights on what is next. That's the piece that we can continue to raise the bar and how rural economic development is done (and) how a rural community can reinvent itself and thrive. We have the right community to do that. We have wonderful leaders all throughout the community. There's already plenty of great ideas."
Jefferson Mayor Craig Berry was excited for the opportunity The Forge will give young people.
"I think it's going to be great. You can show the partnership between many organizations that have come together both local governments, and private organizations, and with the community college to come together. And it shows what we can do with that type of cooperation."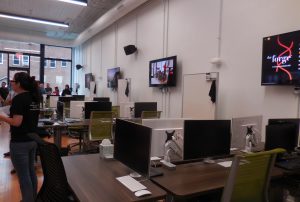 Other speakers who were on-hand to celebrate the grand opening of The Forge included Governor Kim Reynolds, U.S. Congressman Ro Khanna from Silicon Valley, and Corteva Agriscience Chief Information Officer Debra King. Corteva announced this past June of donating $187,500 in scholarships to the DMACC computer language program. The Forge is located at 204-206 East State Street.  Check below for pictures of the event.