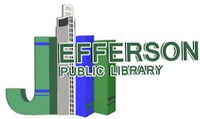 The Friends of the Jefferson Library will be hosting its fall used book sale.
It will be from Saturday, September 14th through Saturday, September 21st in the basement of the library during its regular hours, and one additional Monday evening from 6-8pm. Items for sale include children's large print, mystery, romance, western, inspirational fiction, and historical books, among others; along with DVD's, CD's, jigsaw puzzles, board games and audio books. Plus, there will be daily specials from next Tuesday through Friday. 
This Saturday, the book sale will be open exclusively to Friends members, with the rest of the week open to the public. Friends memberships start at $5 for individuals and $10 for families, plus several other levels. Friends member Ginny Showman talks about why she joined after she moved to Jefferson three years ago.
"The library is really important to me and it always has been. When I saw the little flyer for the Friends, I thought, 'Oh, this is a good way to meet some new people.' I've met wonderful people, but I'm also so enthusiastic about what the Friends do. The first time I worked I worked a book sale, I was so thrilled to see little kids coming in on a Saturday morning and couldn't wait to get up to the library. And I thought, 'I need to be a part of that.'"     
The final day of the sale is Bargain Day. Volunteers will give patrons a brown paper bag to fill with books for $4. Additionally, selected books or items that are individually priced, will be sold at half price that day. All proceeds will go to the Friends for additional purchases for the library.