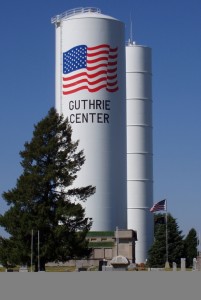 The Guthrie Center City Council met in regular session Monday.
Following Dennis Kunkle's resignation as mayor last month, the Council decided to wait to appoint a council member to the vacant position until October 28th. The City has 60 days to fill the vacancy. Next, the Council approved a letter of opposition to Alliant Energy for gas and electric bill increases, and received an update on the City-owned former fire hall, which was damaged in a dump truck collision last week. LJ Roth has secured the building and has work pending to remove the remainder of the diesel fuel that was spilled from the incident. The City is expected to receive a report from EMC Insurance in a few weeks on what can be done with the building.
The Council then held a public hearing and approved the first reading of an amendment to the C-3 permitted principal uses and structures zoning ordinance for Precision Components' newly opened facility. Finally, the Council approved a culvert bid from Double L Construction of $33,500, which is planned to be at least partially reimbursed by the Federal Emergency Management Agency. They also set a public hearing for a developer agreement with Precision Components for October 14th.