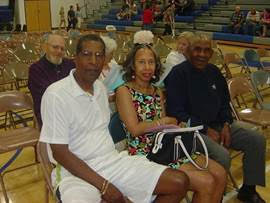 Ronald Davis class of 1965, native of Perry, and son of Gail Davis is proud to follow in his father's footsteps as a Honorary Homecoming Royalty/Honorary Homecoming Captain of Perry Community High School. He is joined by his wife Beverly.
Ron and Beverly Davis reside in Minneapolis, Minnesota and spend their winters in Florida on Historic American Beach located on Amelia Island. Before retiring each worked for over forty years in professions that served youth. Ron was a Career Probation Officer for Hennepin County. In 1970 Beverly a career educator was the first teacher of color hired in Hopkins School District #279. She ended her career as a principal of Metrotech Academy in North Minneapolis. In between, she taught at Brookline High School and Lesley College.
Ron and Beverly met at Northeast Missouri State Teachers College (a.k.a. Truman State University). They earned Bachelor of Science in Education (B.S.E.) degrees in Physical Education and English respectively. While attending Truman Ron excelled in track and Beverly was one of twelve women who chartered Zeta Zeta, a chapter of Delta Sigma Theta Sorority, Incorporated. It was the first Black sorority on campus. As a testament to his numerous outstanding achievements in track and field while attending high school and college in 2010 Ron was inducted into the Iowa Association of Track Coaches Hall of Fame.
To further her own professional development Beverly earned a Masters, and Doctorate in Education from Harvard University. Ron ended his career facilitating resolution meeting between juveniles and the families they offended. Now retired Ron golfs and Beverly reads books and takes writing courses. She is also an active member in an alumna chapter of her sorority. Together, they enjoy biking and spending time with family which includes his daughter Netrea, her husband Gary; four grandchildren Willie, Summyr, Ty, and Kyra, and a great granddaughter Kamorah. His sisters Carole ('63) and Jann ('66) are also Bluejays. And, his late brother Dwight was a state champion in the high jump.  Ron was a state champion in track and field, a state and national high school track record holder, and a collegiate All-American.  The annual Perry High School Davis Relays is in honor of the Gail Davis family.