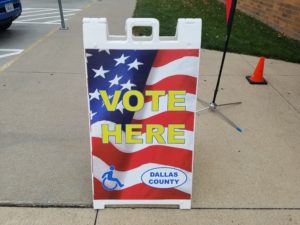 The upcoming city and school election is fast approaching, and an important milestone in the weeks leading up to it has come, with early and absentee voting now open.
Dallas County Auditor Julia Helm details the voting schedule ahead of November 5th. "Other dates that are important would be: the pre-registration deadline would be October 25th; and absentee ballots become available on the 7th of October. So if you filled out an absentee ballot request, we will mail out ballots that day. That's also the first day you can vote in our office. And all requests for mailed ballots are due into our office by 5 o'clock on October 25th."
Helm reminds voters, the polls will be open from 7 a.m. – 8 p.m. on Election Day, and people will need to bring photo identification with them. She also reminds voters to double check their polling location, since that may have changed from the last time they voted in a city or school election. For those wanting to vote early, the Dallas County Auditor's Office is located at 210 North 10th Street in Adel, and it's open weekdays from 8 a.m. – 4:30 p.m. To learn more about the upcoming election, click the link below to listen to the Perry Fareway Let's Talk Dallas County program with Helm.
https://www.raccoonvalleyradio.com/2019/09/24/lets-talk-dallas-county-9-24-2019-julia-helm/