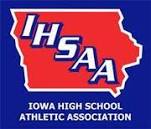 With just three weeks remaining in the regular season, the Iowa High School Athletic Association released the rating percentage index (RPI) after six weeks.
Two area schools are competing in the toughest district in Class 1A, and it's reflected in the RPI standings. The RPI is comprised of the teams record, their opponents record, and their opponents' opponents record. After six weeks, Panorama is currently #2. The only team ahead of them is their opponent this week, Van Meter. Panorama is 6-0, their opponents are 29-26, and their opponents' opponents are 271-221. AC/GC is not far behind, coming in at #9. The Chargers are 5-1, their opponents are 30-25, and their opponents' opponents are 284-213.
The IAHSAA uses RPI to establish at-large playoff spots. A total of 16 teams qualify for the state playoffs. District champions automatically qualify and the remaining spots are filled in order by RPI.