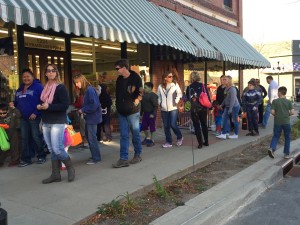 Halloween season is here, and it's time for kids to start thinking about where they'll be getting their treats this year.
With that in mind, here is the times and dates for Beggars Nights in each Dallas County community. Perry will once again have the Spooktacular event downtown on 2nd Street from 4-6 p.m. on Thursday, October 31st. At that same time will be the Dallas County Hospital Safe and Healthy Halloween, as well as a haunted house at Rowley Masonic Community. Citywide trick-or-treating in Perry will run from 6-8 p.m. Adel will also have Beggars Night from 6-8 p.m. on Halloween night. Other communities holding trick-or-treat night on the 31st include: Linden from 5-7; Dexter from 5-8; and DeSoto from 6-8. Also, Redfield will have a Halloween party from 5-6 p.m. at the American Legion, with trick-or-treating from 6-8, and Minburn's annual Trunk-or-Treat on Baker Street will be from 5:30-7:30.
Additionally, two communities will have their celebrations early. Dallas Center will host their Halloween Hayday event on Saturday, October 26th from 3:30-5:30 p.m. in the Walnut Street business district, with citywide trick-or-treating to follow until 8. Finally, Dawson's trick-or-treat day will be Sunday, October 27th from 2-4 p.m., followed by a community party downtown from 4-6.