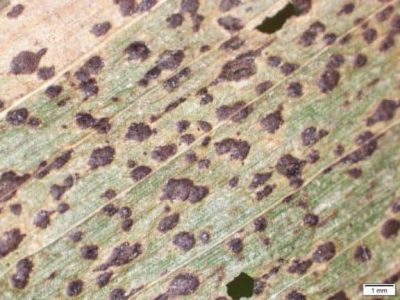 Tar Spot; photos courtesy of ISU Extension and Outreach
Many farmers in central Iowa have started harvesting their fields over the last week, but there's still many concerns for this year's crops.
ISU Extension Field Agronomist Meaghan Anderson points out, a lot of yield this year is being hindered by a pair of serious threats. "Central Iowa unfortunately is right in the center of a new insect pest coming into soybeans from our west, and a new disease pathogen coming in from the east. And actually Dallas County has now had both the soybean gall midge and tar spot, which is found in corn, identified. So I would encourage farmers that they take a look at the leaves, typically kind of in the mid canopy, sometimes in the mid to upper canopy. They'd be looking for black spots that they can't scrape off leaves with their fingernails."
Tar spot initially started in Mexico and Central America, but made its way to the eastern corn belt over the last several years and now has moved into Iowa. As for the soybean gall midge, Anderson says unfortunately there's currently not much farmers can do to fight the pest other than to alert Extension so that research can move forward. The bugs have proven resistant to insecticides, and are capable of decimating a soybean crop. Last year the midges were detected in 12 counties in western Iowa, but have since made their way to the interior of the state. The symptoms of the pest start with a swelling of the stems, followed by brown coloration and wilting of the plant.
If you suspect your field has been infested, you're advised to reach out to Erin Hodgson, associate professor at Iowa State University and Extension entomologist by email at ewh@iastate.edu. To hear more from Anderson about the current crop progress, click the link below to listen to the Perry Fareway Let's Talk Dallas County program with her.
https://www.raccoonvalleyradio.com/2019/10/03/lets-talk-dallas-county-10-3-2019-meaghan-anderson/