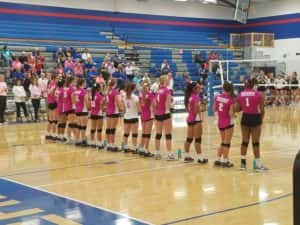 In honor of National Breast Cancer Awareness Month, the Perry High School varsity volleyball team invites fans to join players and coaches in wearing pink tonight for the annual "Dig for a Cure" event.
The Jayette Volleyball Invitational is tonight starting at 7 p.m., and all the Perry players and coaches will be sporting pink attire for the tournament. The other schools at the event, Ballard, Des Moines – Hoover, Roland-Story, and Saydel, will also have some pink added to their uniforms for the evening. The fans can either wear their own pink clothing to the tournament, or purchase shirts at the game in order to help with the "pink out." All proceeds from the t-shirt sales and donation buckets passed around during the games will benefit the American Cancer Society.
Additionally, when the Perry lineups are announced, each player will carry on the tradition of honoring someone they know who's fighting cancer, or remembering someone who lost their battle. For more information on "Dig for a Cure," contact Perry High School at 515-465-3503.