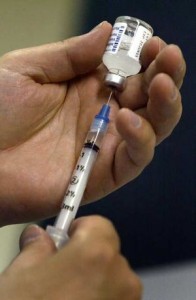 It's October, which means the start of flu season, and healthcare officials are urging everyone to get a flu shot.
Greene County Public Health Immunization Manager Jill Hansen recommends getting a flu shot by October 31st. She explains why they urge everyone to get a flu shot this month.
"I think just because the flu starts to rear its ugly head. As the season progresses and the sooner you're covered for that, the better protected you are. It does take about two weeks after you get the shot for you to have that protection."
Hansen notes those most susceptible to contracting the virus are infants, pregnant women, individuals with weakened immune systems and people over 65-years-old. She says once someone has the flu, it can take up to two weeks for it to run its course. Public health departments, along with medical providers, hospitals and pharmacies can administer flu shots. 
Greene County Public Health will be offering two additional flu shot clinics on Monday, October 14th. They will be at St. Brigid's Parish Center in Grand Junction from 11am-1pm and the Rippey Library from 2-4pm. Additionally, there will be one more drive-thru clinic at Trinity Lutheran Church in Jefferson on October 21st from 4-7pm. Those getting the flu shot are reminded to bring their insurance information.