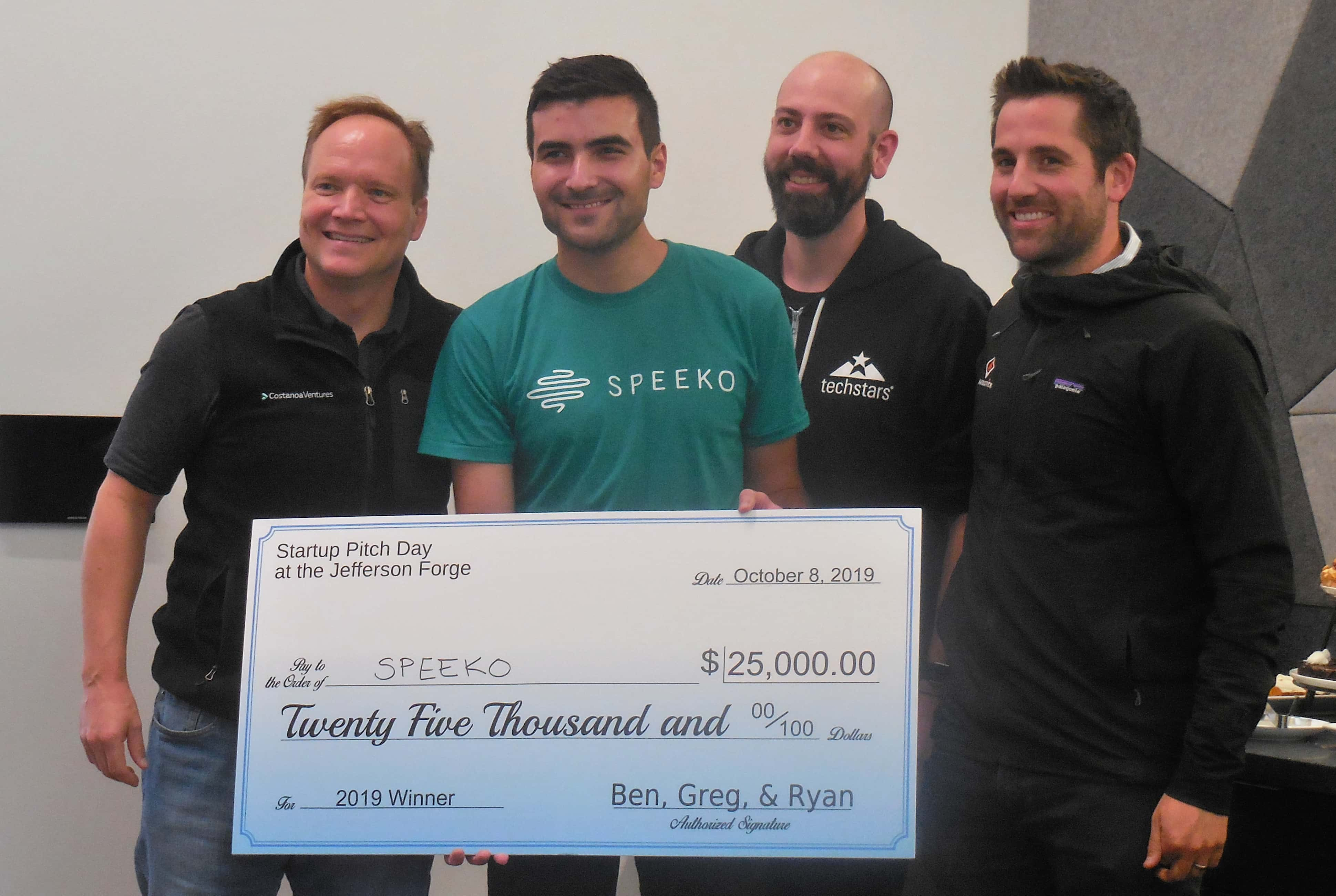 Nico Augilar (second left) was the winner of $25,000 for his app, Speeko
The Forge in Jefferson was the site of a special opportunity for one person who won $25,000 for their startup idea.
Costanoa Ventures Founder Greg Sands manages an investment company and was one of several Silicon Valley representatives that spoke at History Boy Theater in December of 2018, when The Forge was first launched. He made a pledge to come back to Jefferson to hear individuals give product idea pitches in a way similar to the reality show "Shark Tank." 
Sands told Raccoon Valley Radio there were 30 people who applied for the Startup Pitch Day and on Tuesday four finalists pitched their ideas and products to a panel of three judges: Sands, along with Ben Milne, the founder and CEO of Dwolla; and Ryan Broshar, founder and managing partner of Matchstick Ventures. The winner was Nico Augilar of Chicago. The Solon, Iowa native developed Speeko, a smartphone app that is a communication training program. Augilar described how the app works.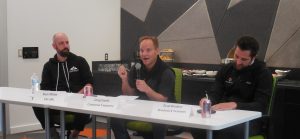 "It can record your voice, and then once you hit 'done' it's going to instantly process your voice and then give you feedback on, 'Hey there, you're speaking a little too fast. Hey, you're using a couple of more filler words than maybe you might be aware of.' Or you can work on better using pausing next time you're speaking. So those are things that a machine can give you feedback on."      
The app launched in 2018 and Augilar said they have tens of thousands of users in over 160 countries. Aguilar is a 2014 University of Iowa graduate with a master's degree in healthcare administration and policy said he will use the $25,000 toward further development of the app and make it available for Android phones, like it is with iPhones. 
Sands talked about why he wanted to bring a one-time contest, like Startup Pitch Day, to the rural community of Jefferson.
"Well most importantly I think innovation belongs everywhere, economic opportunity belongs everywhere, entrepreneurship belongs everywhere. I've been so impressed with what Linc (Kroeger with Accenture) and the team has done here at The Jefferson Forge in terms of creating those kinds of learning opportunities, economic opportunities, and jobs that it felt like we ought to show up and match that by doing Startup Pitch Day here in Jefferson."
Sands added the $25,000 is an equity-free gift from his investment company. The other finalists included: Sean McKay with Handrail, which is a supportive platform for research data collection; Brad Dwyer with Roboflow, which is a computer platform that makes everyday objects interactive; and Mahdi Eghbali with VerdiLife, which uses a bio-mass converter to turn feed stock items into 100-percent organic fertilizers and pesticides.