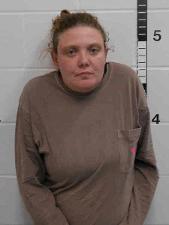 The Stuart Police Department arrested a Stuart woman at the same apartment where the officer-involved shooting took place last week.
According to the Stuart Police, at about 1:13 p.m. Saturday officers were dispatched to an apartment complex on Southwest 7th Street on reports of three people breaking into an apartment and climbing through a window. Law enforcement contacted two males who were leaving the apartment. They told the officer they were there to collect belongings for a friend and that they were the only ones at the apartment. Upon further investigation it was determined that 32-year-old Amanda Comly was inside the apartment, hiding in a bedroom. The officer had knowledge that Comly was wanted on a statewide extraditable warrant. Officers were able to convince Comly to exit the apartment and she was then taken into custody without incident. She later was transferred to the Adair County Jail to be held for the originating county.
She is now in custody at the Clarke County Jail. Her father, Randall Comly, was also wanted out of Clarke County for a second degree arson charge when the Stuart Police and Guthrie County Sheriff's Office attempted an arrest warrant at that same apartment last week, when shots were fired from an occupant of the apartment and two officers and Comly suffered gunshot wounds. Raccoon Valley Radio will bring you more information as it becomes official.