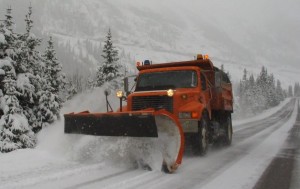 There have already been a few snow events this season in Dallas County, but nothing that has stuck around for too long. When heavier snow does come, the Secondary Roads Department is tasked with maintaining the County roads and making them driveable.
Dallas County Engineer Al Miller says his crews were out plowing roads during the recent snow events, though he says they're being careful not to adversely affect the roads themselves in the name of keeping them clear. "We did resurface quite a few miles of granular surface roads, so we do want to be careful out there. And we're kind of hoping for no heavy, wet snow early in the season until things get froze down. We were gambling a little bit, trying to get a lot of work done this summer, and we got some loose rock out there still so we do have to be careful with our motor grader guys. But overall we're sitting in pretty good shape, (though) I would like to see winter hold off a little bit, but it looks like it's going to come whether we want it to or not."
Miller points out that the County Secondary Roads Department does not run 24 hours a day like the Department of Transportation, and instead they will typically plow roads between 5 a.m. and 5 p.m. However, he says if there is an emergency on a County road outside that time they will address it. He adds, during any major snow event, crews will tackle the 150 miles of paved road in the County first, and get to the 650 miles of granular surfaces after that. He asks motorists to be patient and careful around the snowplows, and reminds everyone to drive to the current conditions.
To hear more from Miller, listen to today's Perry Fareway Let's Talk Dallas County program on air and at RaccoonValleyRadio.com.