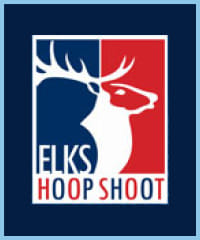 An annual test of basketball skill is this coming Saturday, with the Perry Elks Lodge, number 407 hosting their Hoop Shoot contest.
The local competition is just one of many events happening across the nation, with elementary and middle school-aged kids demonstrating their free throw shooting prowess. The contest will be held at Perry Middle School, with the gym open for warm-up and practice at 9:30 a.m., and the competition starting at 10. The three age groups kids can take part in are 8-9, 10-11, and 12-13 years old. Groups are determined by the participant's age as of April 1, 2020. There are boys and girls divisions, so a total of six winners will be crowned this Saturday.
Students in the Perry, Adel-DeSoto-Minburn, Adair-Casey/Guthrie Center, Panorama, and Woodward-Granger school districts are invited to compete. Registration will take place the day of the event, and there is no cost to participate. The winners of each individual competition will advance to the district Hoop Shoot, which will be held Saturday, January 18th at St. Mary's School in Storm Lake. The winners there will then head to the state final at Grinnell College on February 22nd, followed by regional and national finals in Iowa City and Chicago, respectively. For more information, reach out to the Perry Elks Lodge at 515-465-3791, or Hoop Shoot Director Travis Landgrebe at 712-229-6331. You can also click the link below to visit the Facebook event page.