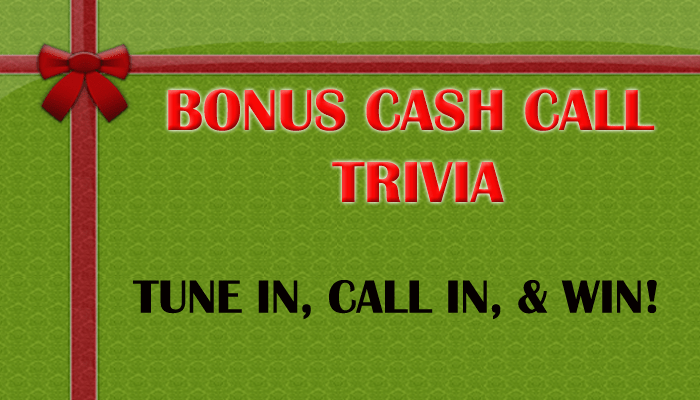 Here are the trivia questions for each of today's sponsors.
KDLS:
Backwards Boutique
Q: How many pairs of Shoes Does Backwards Boutique have coming for Spring?
A: 189 Pairs of Shoes
PERRY LUTHERAN HOMES MAIN CAMPUS
Q: What is the name of the on-site daycare available inside the Perry Lutheran Home?
A:  Acorns and Oaks
Q: Due to the onsite daycare at the Perry Lutheran Homes, what is the unique benefit that only tenants of the Perry Lutheran Home can enjoy?
RACCOON VALLEY BANK
Q: Name the five branch locations for your locally owned Raccoon Valley Bank?
A: Perry, Minburn, Adel, Dallas Center and Grimes
Q: Name the most recent city to open up a new branch for Raccoon Valley Bank and what Highway is it located for your easy convenience?
A:  Grimes and HWY 141
PERRY HYVEE
Q: What city is your Perry Hyvee located in?
A: Perry
KGRA:
Jefferson Iowa Realty
Q: Which real estate company provides you the most marketing for your real estate sale in Greene County?
A: Iowa Realty
Greene County Medical Clinic
Q: What year did the Greene County Medical Clinic finish it's most recent remodel and expand to better serve area residents?
A: 2015
Jefferson Family Chiropractic
Q: In addition to chiropractic care, Jefferson Family Chiropractic offers acupuncture…Which doctor is the acupuncturist?
A: Dr. Ashley
Midland Power Cooperative
Q: In how many Iowa counties does Midland Power Cooperative provide service?
A: 17
KKRF:
Adel-Winterset TV and Appliance Heating and Cooling
Q: For over how many years has Kenny and the staff at Adel-Winterset TV and Appliance Heating and Cooling been serving the Dallas and surrounding area?
A: For over 60 years
People's Bank–Adel, Waukee & Clive)
Q: At Peoples Bank, 8 of the 9 Branches are powered by what? 
A: Solar Panels
Q: Peoples Bank has been serving Iowans since? 
A: 1917
Q: At Peoples bank, get _______ up with checking that earns you more.  
A: Hyped
Fareway-Waukee
Q: What month and year did Fareway in Waukee open?
A:  December, 1998
H & R Block
Q: In what year did the IRS release the first income tax form, called Form 1040?  
A: 1914