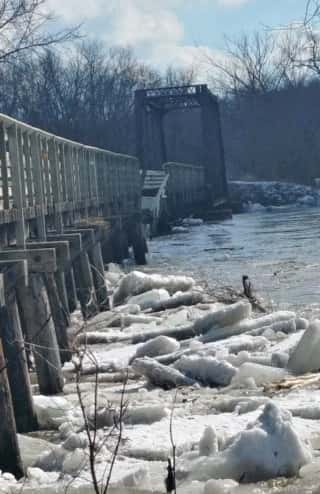 RRVT Bridge that was damaged in March of 2019. Photo courtesy of GC Conservation
Good news is coming to Greene County for the damaged bridge on the Raccoon River Valley Trail.
Greene County Conservation Director Dan Towers says the bridge, located two miles south of Jefferson on the trail, has received Federal Emergency Management Agency (FEMA) assistance for needed repairs. Towers says the cost estimate is $480,000 to repair the bridge, which collapsed in March of 2019 from ice jams. He adds, the project also includes additional structures that were damaged at the same time.
"There were also the two boat ramps – Squirrel Hollow and McMahon Access boat ramps – that suffered quite a bit of damage. We'll have to replace those, rebuild those. It'll be a huge improvement. Both of those ramps had some age on them, so the silver lining in all of this is we will have new boat ramps that will probably be better than the old ones."
Towers is working with HKS Engineering on the design of the projects. He says FEMA has agreed to pay 85-percent of the total project cost, even if the actual cost is more than the estimate. Towers anticipates the project to be bid this spring, with construction to follow.