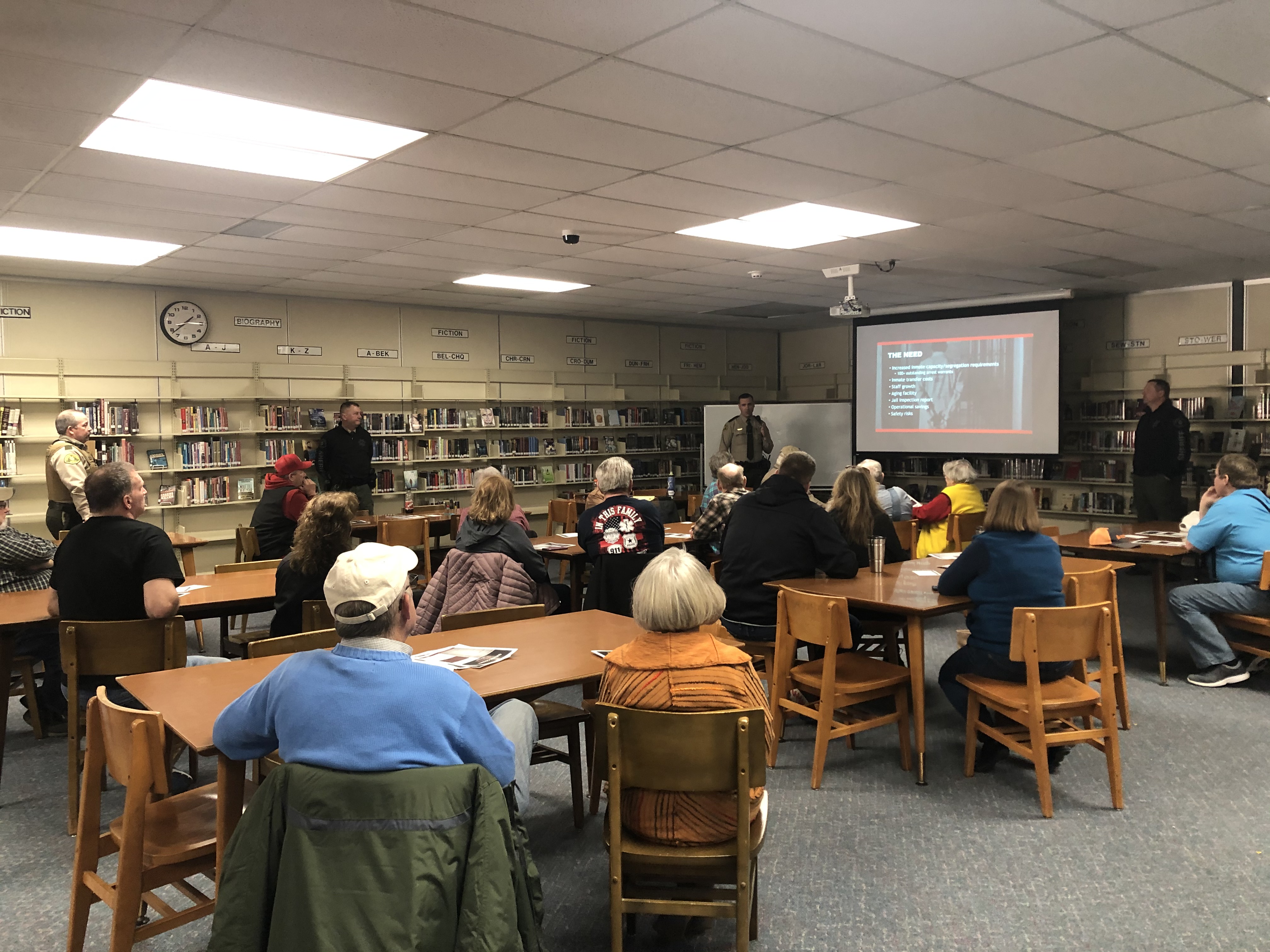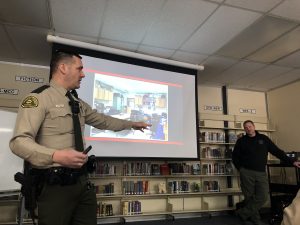 Deputy Kent Gries and Jail Administrator Mike Herbert present to the public Saturday.
The final meeting to inform the public on the existing Guthrie County Jail conditions and the need for a new facility was held Saturday afternoon at the Guthrie Center High School, leading up to the $8.7 million bond referendum vote happening March 3rd.
Guthrie County Sheriff's Office staff, representatives of project manager The Samuels Group and architecture firm Shive-Hattery, and Guthrie County Supervisors Cliff Carney, JD Kuster, and Jack E. Lloyd were all in attendance to discuss the aging and overpopulated facility, the liability threats to inmates, public, and staff safety, and the cost savings of building and operating a new facility over 30 years. However, a question looms whether the State Jail Inspector would shut the jail down for code violations anyway.
Several questions were asked by the public, but the atmosphere was generally positive towards the referendum. Attendee Carolyn Griffith explained that the need for a new jail isn't just to improve conditions for inmates, "What we have right now doesn't meet the state criteria. It's 50 years old, think of your own home, think of businesses that you update and so forth. And I had a (County) Supervisor say this to me too who owns town property and also agricultural property and he had kind of looked at what his taxes would go up, he said it would be about $200 a year. He said, 'You know what? I'm willing to pay that to ensure the safety of our community and get drugs off the street.'"
Sid Samuels of The Samuels Group stressed that if the referendum doesn't pass, construction costs tend to increase by four percent each year. Samuels said their proposed design will meet the minimum standard for state code, while also being viable for the next 50 years, with a capacity of up to 32 beds, a secure sally port for inmates to be booked into the jail without interaction with the public, while also addressing parking and drainage issues related to the entire courthouse property. Voters can calculate their property tax impact and find more information on the project by visiting here. In-person absentee voting is open at the Auditor's Office through March 2nd.