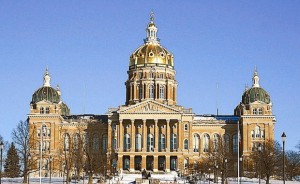 The State House and Senate chambers are sitting quietly at the moment, as novel coronavirus 2019 forced the suspension of the current legislative session.
In mid March, as the pandemic first started to make its way into the state, the Legislature voted to recess for 30 days in order to comply with the gathering in public places rules recommended by the Centers for Disease Control. State Senator Jake Chapman, (R) District 10, says it's been a difficult situation for them, but emphasizes that legislators aren't sitting idly during this interim. "A lot of work is still going on. We are working between the Senate and the House on policy issues. I of course am a little disappointed with what has transpired, and it's not anyone's fault in particular, but it really changes some of the conversation on tax reform this year. But there are still things that need to be done on taxes, mental health funding, those type of things. So during this 30-day window we continue to work with staff, with the Legislative Services Agency, and with our colleagues across the chamber to work out some deals. So when we do come back into session, we can hopefully wrap it up fairly quickly, but have some agreements on policy legislation."
Chapman adds, the Legislature voted to suspend the rules for the second funnel, so they won't be subject to the deadline which has already passed. Additionally, in case the recess lasts longer than April 15th, the chambers passed a continuing resolution that would allow the current budget funding to extend 60 days after the start of the new fiscal year on July 1st. Chapman says that gives them a little more leeway to get appropriation and policy bills passed, and ensuring the government has the funds to continue operation.
To learn more about the current state of the legislative session, listen to today's Perry Fareway Let's Talk Dallas County program on air and at RaccoonValleyRadio.com.