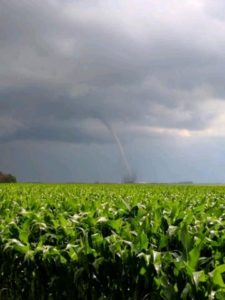 As Severe Weather Awareness Week continues, the focus for today shifts to the weather event Iowans are typically most afraid of: tornadoes.
Dallas County Emergency Management Coordinator A.J. Seely says last year there were 54 tornadoes in Iowa of various scales. He points out, a tornado can be as small as 10-yards in diameter or as big as half-a-mile. Regardless of the size, Seely says the destructive power the storm possesses is well known and not to be taken lightly. He emphasizes that when a tornado warning is issued, people in that area need to immediately move to their basement or a centrally-located room in their house for shelter.
Seely also points out, anyone outside during a tornado should seek shelter right away, as there are multiple potentially fatal hazards. "One thing with tornadoes a lot of people don't think about is that if we're outside and there's a tornado nearby, it often lofts debris into the air. And that debris can be flying and turn into a projectile, and it could actually cause more injuries than the tornado itself. You typically see two-by-fours actually pushed through concrete curbs and staircases, so (you) certainly don't want to be in the path of that."
Seely also reminds people to wear shoes during a tornado event, as there's likely to be a lot of debris and glass strewn about following a storm. As a reminder, whenever severe weather affects the Raccoon Valley Radio listening area, the Severe Weather Action Team will take the air to track the storm and help keep people safe. To learn more about Severe Weather Awareness Week, click the links below to listen to the two-part Perry Fareway Let's Talk Dallas County program with Seely.
https://www.raccoonvalleyradio.com/2020/03/23/lets-talk-dallas-county-3-23-2020-a-j-seely-part-one/
https://www.raccoonvalleyradio.com/2020/03/24/lets-talk-dallas-county-3-24-2020-a-j-seely-part-two/