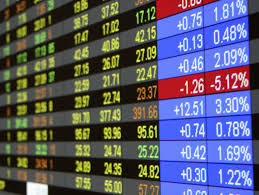 stock market
After several days of the stock market taking hits and being in the negative, there was some good news earlier this week. 
Certified Financial Planner Tim Heisterkamp with Journey Financial says the Dow Jones Industrial Average climbed to over 2,000 points, about 11-percent, gains on Monday, and the NASDAQ and S&P 500 were also up. He explains the main reason behind one of the biggest single day percentage gains the market has seen since the 2008 recession.
"A lot of this is the expectation that Congress is finally going to get something done on this stimulus package to help fight the economic downturn that the coronavirus is causing."
Heisterkamp says the Dow Jones has had and will continue to have large swings in the market, depending on the day.
"The Dow Jones Industrial Average is only made up of 30 large companies. So any one day, if you have a couple of those big companies move significantly that can move the whole Dow up or down one way or the other just because of their weighting."
Heisterkamp adds, technology giant Apple makes up eight-percent of the Dow, while airplane manufacturer Boeing, which has been one of the companies with the largest gain, makes up four-percent. He believes there will be more fluctuations in the market in the future with one major concern being how long the economy can continue if lots of areas are shut down due to COVID-19.