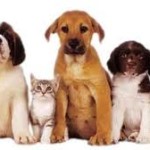 A common misconception when it comes to COVID-19 is that it may affect animals.
According to the Centers for Disease Control and Prevention (CDC) there is no evidence that the virus can be caught and passed by pets such as dogs and cats. Amy Heinz, owner of AHeinz57 Pet Rescue and Transport in DeSoto, says dogs have their own version of coronavirus that has been around for decades, and it can't be contracted by humans. Similarly, the human strain can't be caught by animals, and she points out that the alleged case of a dog in Hong Kong contracting it was quickly debunked as virus shed from the human onto the dog, and the dog never got sick.
However, Heinz emphasizes that if you're sick and exhibiting symptoms of COVID-19, a pet can transport the virus in a different way. "They are like any other surface. You know, if you sneeze those droplets can go on any surface including your dog's head that you're petting, or a cat. So just for the safety of everybody, don't cuddle if you're sick!"
To learn more about coronavirus and its impact on pets, click the link below to listen to the Perry Fareway Let's Talk Dallas County program with Heinz.
https://www.raccoonvalleyradio.com/2020/04/03/lets-talk-dallas-county-4-3-2020-amy-heinz/