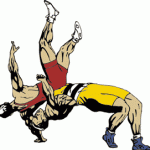 Greene County wrestler McKinley Robbins accomplished more in the Feb. 2020 postseason than any other ninth grader in the 55-year history of high school wrestling based in Jefferson. He finished in second place in the Class 2A portion of the State Tournament at 106 lbs. Robbins trains with Sebolt Wrestling Academy, which just purchased the former Fieldhouse building in Jefferson and will headquarter its 70 or so elite wrestlers from third grade on up through high school age here. Mason City has been the headquarters.
Robbins was asked how he thought having Sebolt Wrestling here could help the Greene County Rams wrestling program. "I think it'll bring some excitement for the sport of wrestling to the town and the community. Hopefully, it'll get kids excited and open their eyes, and bring a spark, even more than last year did, getting a couple guys down to State. I think it'll be a good thing for us."
He added that TJ Sebolt helped him greatly, and not only on the mat. "TJ has really given a lot to my success. He changed me. Before, I was probably mediocre at best, and just him in general, not even the coaching aspect, but in general, he kind of changed the way I thought of everything, and changed how I wrestled."
Robbins and other elite wrestlers hope the COVID-19 situation eases to the point they can get competitive wrestling in this summer.