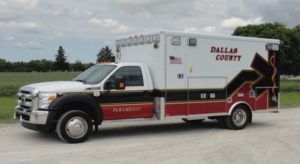 This week we celebrate paramedics and emergency medical technicians with National EMS Week, and this year it's even more important to show appreciation given the work they do on the front lines of the COVID-19 pandemic.
Dallas County Emergency Medical Services Director Mike Thomason says he has a crew of 16 full-time workers, in addition to 29 part-time staffers. He feels the work they've done during the health crisis has been outstanding, and also credits the public for helping to keep spirits high. "You know, they're now tasked a lot more than they have been in the past, and this is kind of out of their norm. I know it's there in their job description, but this is a little bit above and beyond what is considered a 'normal' job description. (But) right now we're doing alright, the crew's been quite healthy and still full of energy so that's good. I think the outpouring of community support really has helped tremendously, (and) we can't thank the community enough for that."
To learn more about the Dallas County EMS Department, click the link below to listen to the Perry Fareway Let's Talk Dallas County program with Thomason.
https://www.raccoonvalleyradio.com/2020/05/07/lets-talk-dallas-county-5-7-2020-mike-thomason/