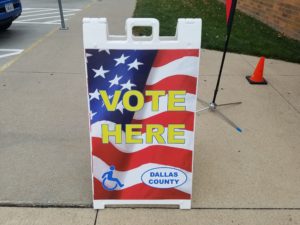 The June 2nd primary election is going to look a lot different this year compared to previous years due to the ongoing concerns of COVID-19, but the Dallas County Auditor's Office ensures voters it's all in the name of having a safe Election Day.
Auditor Julia Helm notes that one change is how the precincts will be set up. As opposed to having multiple locations set up for each individual precinct, most are being combined into one. For example, she says all three Perry precincts, as well as Spring Valley – Dallas and Beaver – Des Moines, will vote at Perry Elementary School. Helm adds, there will be multiple safety precautions in place at the polling locations to keep all involved safe. "We will be having six-foot separation while you're waiting in line, we will have hand sanitizer for voters, you will have your individual pen – each voter will have their own pen to use, and they'll be able to drop it off as they walk out the precinct and get another squirt of hand sanitizer – to try to keep as clean and all the CDC (Centers for Disease Control and Prevention) guidelines that we are getting we're trying to utilize. And my poll workers will have some PPE (personal protective equipment), hand sanitizer, (and) gloves to help protect them also."
Helm also points out that absentee voting is currently happening, though today is the deadline to request an absentee ballot by mail. All completed ballots must then be postmarked by June 1st in order for your vote to count. The Auditor's Office is also conducting curbside early voting, which can be done by calling ahead at 515-993-6914, and then stopping by their office, located at 210 North 10th Street in Adel. To learn more about the June primary election, listen to today's Perry Fareway Let's Talk Dallas County program on air and at RaccoonValleyRadio.com.