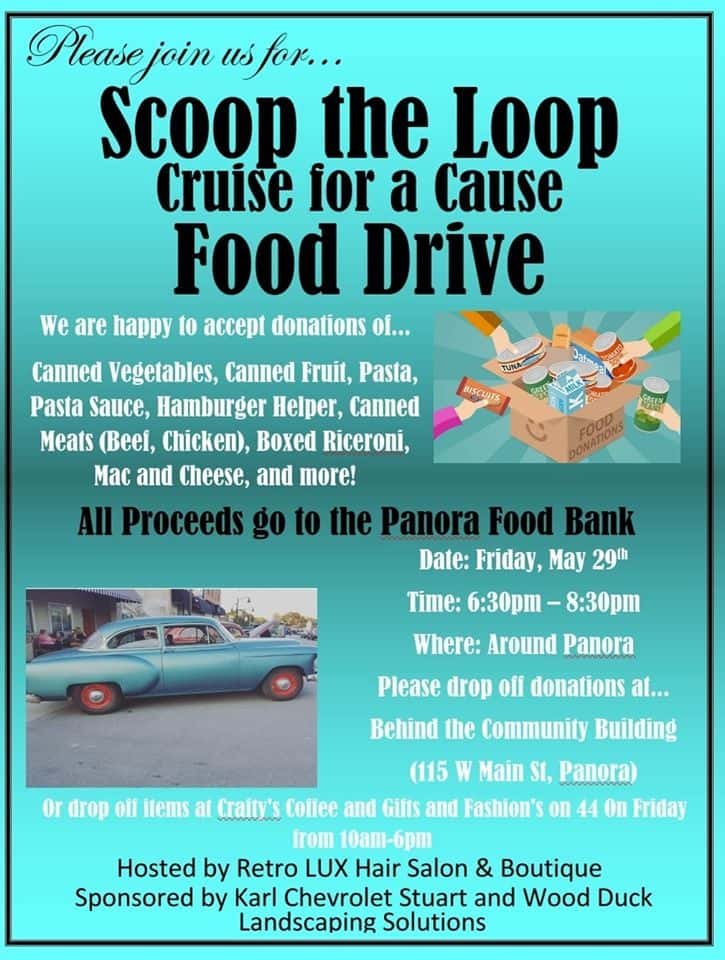 A Panora business owner is revving up to host another Scoop the Loop event to bring the community together, with an added effort to help those impacted by the COVID-19 crisis.
Retro LUX Hair Salon & Boutique, owned by Kellie Flanery, is hosting "Scoop the Loop: Cruise for a Cause Food Drive" from 6:30-8:30 p.m. on Friday, May 29th. From vintage to modern vehicles, all residents are welcome to cruise through Panora with designated turn-arounds at the Panorama High School and the Lake Side Floors parking lot. Volunteers will also be accepting "drive-through" drop offs of nonperishable food behind the Veterans Auditorium and Community building, which will be donated to the Panora Food Bank located at the Community Building.
Before the current pandemic Flanery was versed in organizing Scoop the Loops for the annual Panorama Days, and since her salon has been closed the last couple months, she decided to channel her energy into lifting the spirit of the Panora area, "We need people from the outside to come in and see what our town has to offer. We have some great boutiques, we have awesome restaurants, and right now all of us small businesses are hurting. I just enjoy planning events, I feel like I'm good at it. I have a great network on Facebook and I have a lot of people who love cars and things like that. So I just felt like I wanted to give back to the community."
Those who aren't able to attend Scoop the Loop: Cruise for a Cause can drop off food items at Crafty's Coffee and Gifts and Fashion's on 44 from 10 a.m.-6 p.m next Friday.