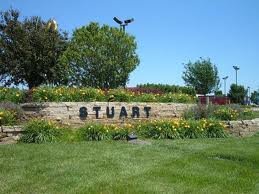 The Stuart Public Library is excited to announce they are now offering curbside check-out services starting today.
The Library staff and Board of Trustees have been closely monitoring the COVID-19 pandemic, and while Iowa libraries can open to foot traffic at a 50 percent capacity, the Stuart Library is taking a more careful approach to returning to their normal operations. Library Director Lisa Sherman says the public can call the library at 515-523-2152 Monday through Friday from 10 a.m.-5 p.m. to request materials they would like to check out, "Once they've requested them we will also work with that patron for a time that they are going to pick the items up. That's really important because we aren't going to just let them sit out all day nor are we going to stand at the windows and wait and watch. So you give us a time and then when you get to the library, give us a call and say, 'Hey, I'm here.' And I gotta tell you that's going to work a lot better for us because I'm sure we're going to have a lot of people utilizing this curbside service."
If patrons are unsure of what they'd like to check out, Sherman says they can browse their catalogue on their website. She and Assistant Librarian Katie Reynolds are also happy to give recommendations over the phone as well.