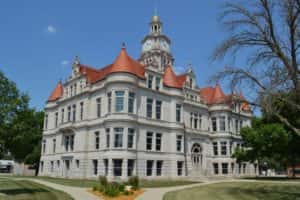 The Dallas County Board of Supervisors convened Tuesday morning in regular session.
The meeting began with approval of the payroll change notices as presented, except for one to promote Adam Infante from Sheriff's Deputy Lieutenant to Chief Deputy, which will be considered at the next meeting. Following that, the Board approved a resolution amending the sale and conveyance of vacated Secondary Roads buildings, in order to correct the address for the shed in Van Meter. Next, they approved the five-year roadside vegetation management plan, as well as resolutions for drainage district assessments.
The Supervisors then approved three operating transfers for fiscal year 2020, appointments to the Central Iowa Regional Housing Authority and Mid-Iowa Development Fund boards, and setting a public hearing for June 16th at 9:30 a.m. to consider an FY20 budget amendment. The meeting concluded with approval of a temporary public building health and safety policy statement, which will allow department heads to reopen their offices effective May 28th at their discretion. The policy also included language that protective masks are "highly recommended" in all buildings.