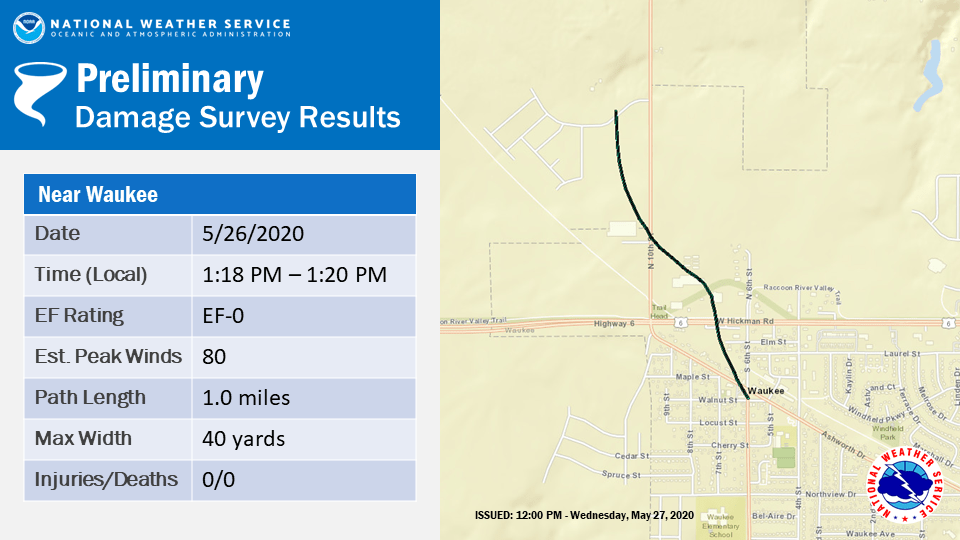 Information has been released on the tornado system that passed through Dallas County Tuesday afternoon, reportedly touching down in Waukee and near Dallas Center.
According to the National Weather Service, the tornado was rated as EF-0 in strength, and the damage was mostly isolated to one area of Waukee. The damage survey results showed the tornado touched down near the intersection of Ashworth Drive and South 6th Street at 1:18 p.m., and made its way northwest crossing Hickman Road and North 10th Street. It lifted back off the ground at approximately 1:20 p.m. In total, the tornado was on the ground for around one mile, created wind gusts of 80 miles-per-hour, and had a maximum width of 40 yards.
The storm system then reportedly touched ground again to the southeast of Dallas Center at 1:28 p.m., near the intersection of 260th Street and S Avenue. The tornado traveled approximately 1.8 miles and lifted at 1:31 p.m. just to the east of the City. The NWS says the second tornado was EF-U, meaning its strength and max wind speed are unknown, since there was little observable damage.
As for the touch down in Waukee, Dallas County Emergency Management Coordinator A.J. Seely says there was damage reported at Shottenkirk Chevrolet, Selectivend Incorporated, Quad Graphics, and the Stratford Crossing development. Damage included broken windows in vehicles and structures, non-structural commercial roofing damage, and tearing of a small section of an unoccupied residential roof in the housing development. There were no injuries reported.