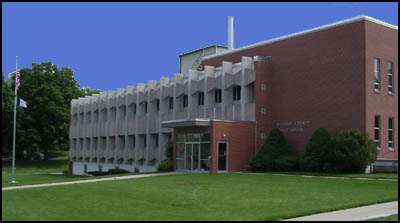 The Guthrie County Board of Supervisors approved reducing the level of maintenance on county road Roost Lane to an Area Service "B" Road at their meeting Tuesday.
The Board held a public hearing for the proposal in the courtroom, as the property owners whose land is accessed by Roost Lane including Brad Hayes and Mark Van Houten were in attendance. County Engineer Josh Sebern explained that a B road would mean minimum maintenance, and that motorists would travel at their own risk, much like other B level roads in the County. Sebern noted that this was a concession to the landowners from how the Supervisors originally proposed to vacate the road.
The Board had approved vacating the east-west portion of the L-shaped road that's north of Highway 44, west of Panora. The landowners at that time seemed agreeable to the action, but then argued against the Supervisors vacating the north-south portion, which ultimately failed to pass on a 2-3 vote in April. Van Houten mentioned that Sebern told him three years ago that Roost Lane was a level A road, and he since bought the property and has built a house on it. Sebern said the road was unclassified.