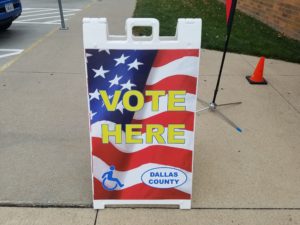 With the primary election now wrapped up, Dallas County Auditor Julia Helm has already started to turn her focus to the general election in November.
Overall, she felt the primary process was a success, especially given the level of disruption due to ongoing COVID-19 concerns. Helm says they had more absentee and early votes cast this year than any previous primary election by a wide margin. She says that speaks to both how seriously people were taking social distancing recommendations, and the state's concerted effort to simplify and encourage absentee voting. Whether or not the coronavirus is still an issue come November, Helm still anticipates there to be a higher than normal early voting turnout once again.
As for Election Day itself, Helm feels what they did worked and gave them some guidance for how the general election could operate, though she emphasizes there's a lot of work to be done before November 3rd. "I will need to recruit more workers, because we cannot, I don't think, handle the large volume of voter turnout in November with eight precincts. So that's my concern over this summer, would be to try to make precinct election workers feel comfortable. We will continue to work on that in the summer and hope for the best, but plan for everything we can do to help voters feel safe and secure."
Dallas County Elections Administrator Kim Owen adds, they had 13,614 ballots cast in the County for the primary – which she says was a record – and 10,008 were by absentee, or 73.5%. To see full results from the election, click the link below.
http://electionresults.dallascountyiowa.gov/ResultsSummary.aspx