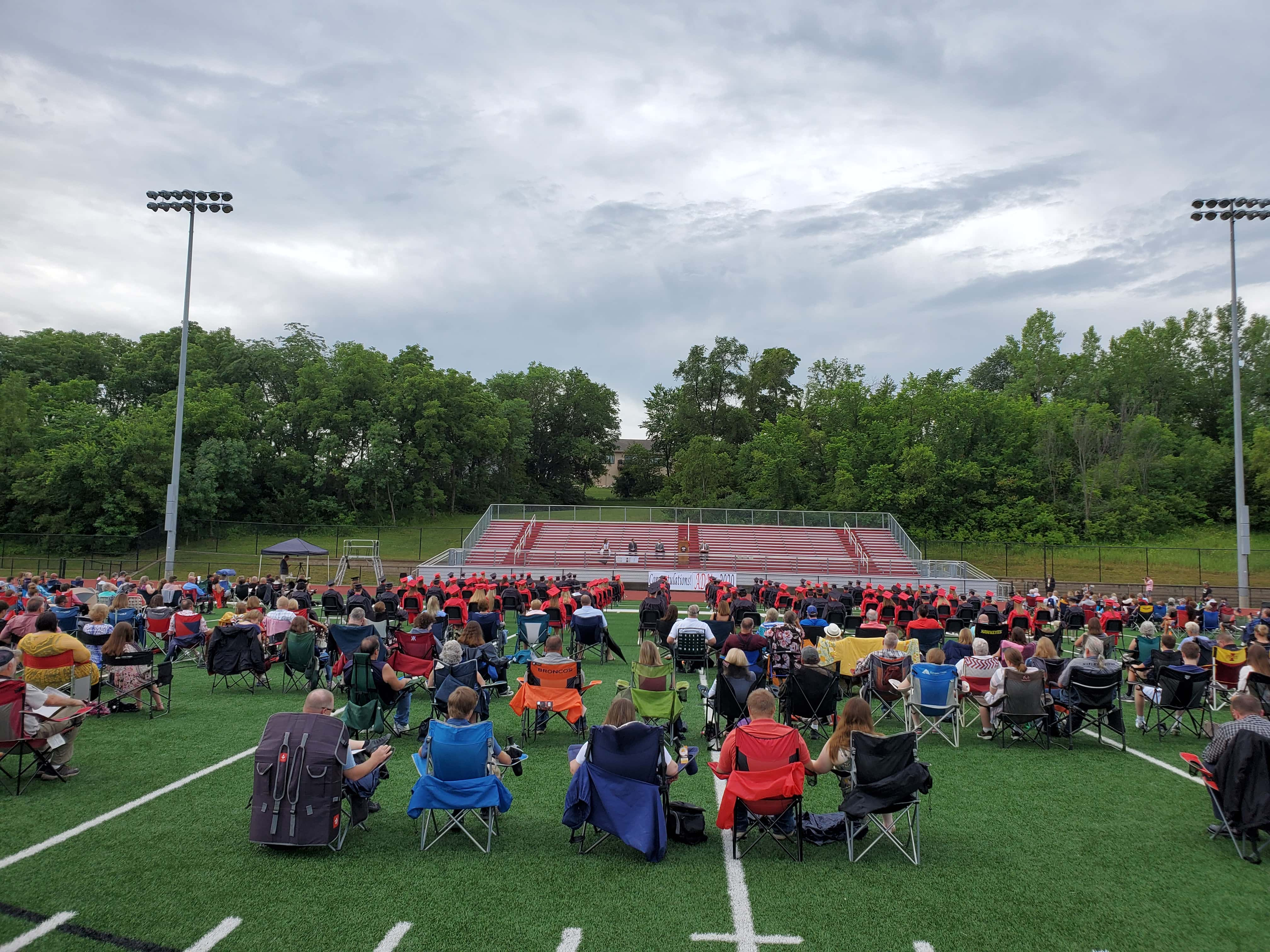 The long-awaited graduation ceremony for the Adel-DeSoto-Minburn Class of 2020 had to wait a bit longer Saturday morning, as rain delayed the start by half-an-hour.
The event proved worth the wait, though, as the graduates and their friends and family were treated to a traditional ceremony, as they had hoped. The proceedings were held outdoors at Tiger Stadium in order for all attendees to properly social distance, and the bleachers and field were filled with proud families waiting to hear their graduate's name called. ADM High School Principal Lee Griebel emceed the ceremony, with Superintendent Greg Dufoe giving the first speech. There were then three student speakers, each with a particular theme. Max Weesner spoke about the past, Emily Hlas about the present, and Nathaniel Aukes about the future.
In her speech, Hlas talked at length about the reason the ceremony was delayed: the COVID-19 pandemic. However, her message was that of finding the good in the disruption. "Soon life will return to its normal, busy life, and when it does I would encourage you all to slow down your life pace every once in a while. Don't misunderstand me, I'm not asking you to not be ambitious or to not climb the ladder. I want you to pursue your dreams and chase your goals with all of your heart, but don't forget to stop and smell the roses. Maybe look back every now and then and consider how far you've come. Fix your eyes straight ahead, yes, but also take the time to look around a bit. Experience where you currently are. Don't forget as you're trying to get to wherever it is you want to go, to live where you are right now. Thank you."
After the speeches, the 123 members of the graduating class got to walk across the stage and receive their diplomas from Dufoe and School Board President Tim Canney. The event concluded with the firing of the cannon, or the "Boom," which is traditionally heard at home football games. To view the video of the ADM commencement ceremony, click the link below to visit the District's official Facebook page.
https://www.facebook.com/ADMCommunitySchools/