The Greene County High School Class of 2020 held its commencement ceremony Sunday afternoon in a little bit different style.
Due to COVID-19, there were two separate ceremonies that took place on Linduskia Field in Jefferson. The first one was an individual walkthrough, where students and their families walked across the stage to receive their diplomas and then immediately exited the stage. The other was a group ceremony, with proper social distancing for students on the track, as well as their families in the bleachers.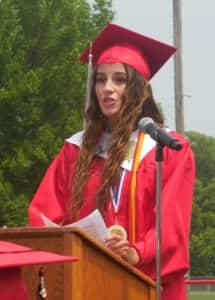 The ceremony opened with remarks from High School Principal Brian Phillips, followed by a speech from Senior Class President Sophia Ausberger. After the students listened to the commencement speaker, Jim Andrew – a 1967 Jefferson High School graduate – the students then received their diplomas. Phillips shared his thoughts of how the ceremonies went.
"The day was great. I really want to give a big thank you to the committee that I had, and I don't really want to name them by person except a couple of people: Patty Fisher really helped out a lot, Crystal Chrichton did a wonderful job too, and a whole bunch of other people. This is the first time that I've had such a big committee planning graduation, but we covered all our bases I think health-wise with social distancing, it really went over well. It doesn't mean I want to do it again next year though, I would rather do it in the new building."
The co-valedictorians were recognized with Ausberger and Kassie Lamoureux, along with salutatorian Kaitlin Tjostem.