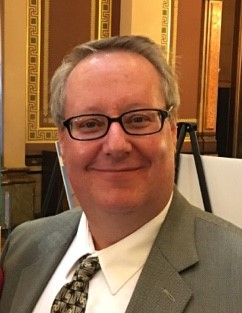 Photo courtesy of CICS
A new CEO of the mental health region that Greene County is a part of will officially take over tomorrow.
Russell Wood has served as the Central Iowa Community Services (CICS) Planning Officer, and he's responsible for developing programs for the 11-county region. Wood tells Raccoon Valley Radio he wanted to be the new CICS CEO because he wanted to bring more collaboration to the region with the resources he has like serving on the governor-appointed boards and neighboring mental health regions.
"So be able to get things from other regions to see: can we implement something similar here,  are there partnerships that we can use to potentially reduce our costs in starting up programs, are there ways that we can access for other funding?" 
Wood points out two aspects the region is currently developing services for include children's mental health and individuals with complex needs, which were both passed by the Iowa Legislature in 2019 and 2018 respectively. He says he's looking forward to continuing to find ways to provide efficient and additional services, and being the voice for those who don't have one when it comes to mental health and disabilities. To hear more from Wood, listen to today's Community State Bank in Paton Let's Talk Greene County program.