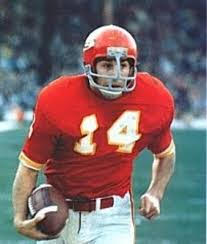 The Rotary Club of Jefferson ended its 2019-20 fiscal year with not one, but two in-person speakers of note. Former U. of Iowa and Kansas City Chiefs football player Ed Podolak from Atlantic, IA, and football and men's basketball radio play-by-play announcer Gary Dolphin both spoke and answered questions. The two are set to begin their 24th season working together as the football announcing team on the Hawkeye Radio Network.
Podolak won a Super Bowl as a running back with the Chiefs, and he's a member of that organization's Hall of Fame. Perhaps best known for his 1971 playoff performance in what is still the longest game in NFL history, Podlelak's Chiefs lost the game. He had 350 total yards of offense with 85 rushing, 110 receiving, and 155 of punt and kick returns. It ranks as the number 4 NFL playoff performance. He told Raccoon Valley Radio that record is likely to stand. "I think it's a record that will probably stand because today they have specialists. There are people that return punts, people that return kicks, people that catch passes, people that run on first down, and others that are third down backs. I got to do everything and that's what made it so much fun playing in Hank Stram's offense."
We'll hear from Dolphin, a native of Cascade, IA, on the Wednesday Sports Page.