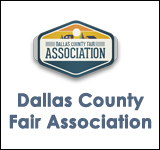 The traditional Dallas County Fair will not be held this year due to COVID-19 concerns, but the public will still be able to take part in some aspects of the annual event.
One way to do that is with the yearly Sponsorship Dinner, though it won't be the sit-down who's-who affair it has been in the past. This year the Fair Board is offering "Sponsorship Dinner To Go," which will be available on Wednesday, July 8th. Anyone interested can call ahead and order a meal, which consists of Windsor pork chops – or hot dogs for kids – cheesy potatoes, green beans, and cake, all for $20 a plate. They will then drive through the fairgrounds from 6-8 p.m. to pick up their meals. All proceeds will support future Dallas County Fair programs and entertainment.
As a reminder, in lieu of the typical fair events, the Fair Association, local FFA chapters, and Dallas County ISU Extension and Outreach have partnered to organize a 4-H/FFA Expo that will run next week. Kids in the program will get to show off their livestock and static projects from July 5-12, though the public is not permitted to attend due to social distancing recommendations. However, the community can support the youngsters with monetary donations, which will make up for the loss of auction premiums this year. The Fair Board's goal is that all youth that step into the show ring will receive a donation for their efforts.
For more information on how to donate or to reserve your to-go sponsorship meal, email the Fair Association at dallascountyfairgrounds@gmail.com, or call their office at 515-993-3728. You can also click the link below to visit their official Facebook page.