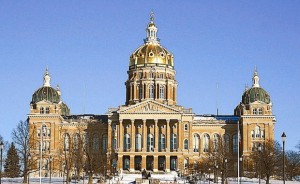 Looking back at the 2020 Iowa legislative session, District 10 State Senator Jake Chapman (R) is proud of what was accomplished in an unprecedented year. In particular, he feels they did great work on the budget, even though they didn't have to make many big changes.
On the final day of the session, the Legislature passed a status quo budget, meaning they carried over the funding from the previous year. Chapman says even doing that took some financial jumping jacks, given the economic disruption that came from the COVID-19 pandemic. He adds, the biggest change from last year's budget was the 2.3% in allowable growth given to the public school system, which he's proud they were able to make good on. "We really didn't grow our budget this year, I thought it was important that we were being fiscally disciplined. Just as many Iowans who are facing difficult times right now have tightened their belt, and so we too tightened our belt. I'm proud, though, of the budget we have passed. We prioritized, we made a commitment on education, and we fully funded it."
Chapman is also pleased they were able to provide around $2.5 million in additional funding to the Iowa State Patrol, and also passed a bill that would keep federal COVID-19 relief grants and loans from being taxed by the state. To learn more about this and other topics from the 2020 legislative session, click the link below to listen to the most recent Perry Fareway Let's Talk Dallas County program with Chapman.
https://www.raccoonvalleyradio.com/2020/07/06/lets-talk-dallas-county-7-6-2020-jake-chapman/